Poorly fitted shoes can cause an open area on the foot which can quickly lead to infections. Untreated infections sometimes result in more serious problems and in extreme situations, amputation.
Proper footwear is essential for patients with diabetes. Our office can provide you with a wide variety of stylish shoes. Our complete line of shoes provide the extra depth and design considerations necessary to prevent diabetic foot complication as well as providing comfort and style.
Speak with our staff if you are interested in diabetic footwear. Our staff is trained to size and fit the perfect shoe for you.
Insurance Coverage
Medicare recognizes the importance of wearing proper footwear for diabetic patients. They have developed the Medicare Therapeutic Shoe Program covering 80% of diabetic footwear and inserts. Please read the following details about this program by clicking here . If you have additional questions please contact the office.
Our Selection
We take pride in the ability to offer a wide range of shoes to fit any style. Please see the list of brands we currently carry. We also have diabetic socks and compression socks available for purchase.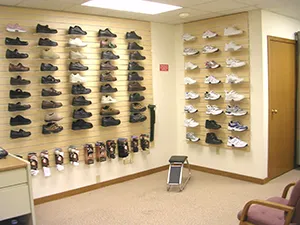 SureFit
Apex
Brooks
Hush Puppies
Darco
OrthoFeet